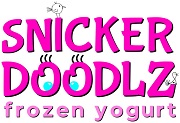 Can't have a bad day when you're eating frozen yogurt!
Back to School Doodle Photo Contest – Send us your best doodle!
Submit a picture of your "Best Doodle" to 106 KHQ.com or on Facebook for the chance to win a $50 to Snickerdoodlz Frozen Yogurt in Petoskey!
Two winners will be announced on Wednesday September 9th!
SNICKERDOODLZ Self-serve, weigh-and-pay frozen yogurt, in Petoskey next to Buffalo wild wings! Enjoy 15 flavor combinations, over 50 toppings, bubble tea and treats for dogs! Plus…For a limited time, with any purchase of frozen yogurt receive a free school supply!