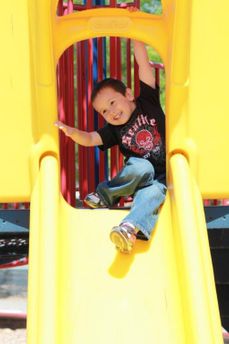 Please click the thumbnail image to the left to view more and vote for your favorite finalist.
Alma Pre-School, Castro Valley Unified School District (www.cv.k12.ca.us/schools/alma-pre-school) specializes in meeting the needs of severely disabled children. Our program specifically supports approximately 70 children with a variety of disabilities including autism, blindness, cerebral palsy, global delays, intellectual deficits, speech and language deficits, and severe attention issues. With the support of our program, children are equipped to transition to kindergarten with greater success. Because of the special needs of our children, traditional playground equipment is inadequate to assist with the types of gross motor development many of our student's needs. Equipment for our playground should be more accessible to meet multiple student needs and more focused on strengthening motor development. Creating this type of outside environment is extremely expensive, but necessary in order to help our children reach their maximum physical potential. The prize will provide resources to create a playground that is safe and more accessible for play as well as therapeutic needs.
What winning this prize means for our organization: Our students are incredibly active and involved during their time at Alma, not just in the classroom but outside as well. The more we can provide them with a solid support system inside the classroom and outside of it, the better equipped we are at making the most out of their early interventions. The turf prize would allow for a safer, better utilized, and more accessible area for the students to work on and play on. The students would be able to strengthen their motor skills and have a safer area to play on. Ultimately though, it provides for a more accessible setting, particularly for those students in wheelchairs, who have physical impairments, or are blind. Alma pre-school provides up to six amazing programs for its students, with multiple services intertwined within them. It is our hope that with this prize, the playground will be on its way to becoming just as amazing for an incredible group of students who deserve nothing less.
Video submitted: http://youtu.be/hi8TSG-lyxY