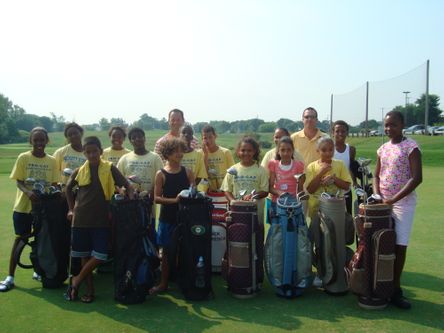 Please click the thumbnail image to the left to view more and vote for your favorite finalist.
Button Hole (www.buttonhole.org) partners with local schools and community agencies to provide urban youth with the chance to develop strong character and learn life-long values, including perseverance, honesty and integrity, through lessons in golf. For the past 12 years, we have had an impact on the lives of over 15,000 youth who have been introduced to golf at our short course and teaching center through lessons, clinics, in-school, after-school and summer programs, special events and tournaments involving over 30 community and social service agencies and schools. An estimated 78 percent of the youth we serve live in families with incomes below the poverty level. Last year, more than 2,600 students primarily between the ages of seven to 17 were served; over 2,100 received scholarships from Button Hole. We collaborate with other local agencies including schools, after-school programs and community agencies including the Special Olympics to expand our reach to kids with disabilities as well as those in financial need. Outreach efforts also benefit senior citizens, disabled children and veterans, and the military.
What winning this prize means for our organization: Putting synthetic turf in the teaching area would dramatically expand our ability to continue to achieve and increase our mission, allowing Button Hole to transition from a seasonal teaching facility to a year round educational facility. Our programs at Button Hole have made a tremendous impact on the school performance, self-esteem, confidence and self-worth development of the kids we serve, while enhanced outreach to children with disabilities has placed us in the forefront of melding youth golf and accessibility. Because there is no other indoor golfing facility in the state, this physical improvement would create another revenue stream to ensure that thousands of young people annually continue to benefit mentally, physically, and emotionally from their participation in our programs.
Video submitted: www.buttonhole.org (click on video)