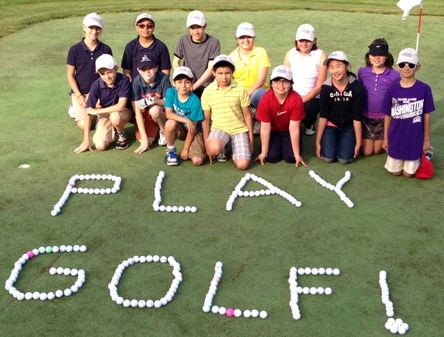 Please click the thumbnail image to the left to view more and vote for your favorite finalist.
The Children's Course/The First Tee of Greater Portland (www.thefirstteegreaterportland.org) has provided youth-education programs that build character, instill life-enhancing values and promote healthy choices through the game of golf since 1996. Youth learn the fundamentals of the game onsite at The Children's Course (TCC)—a nine-hole, par 3 golf course with a five-hole teaching and learning center in Gladstone, Oregon. Our primary goal for 2013 is to increase the number of youth we serve by 10%—from 6,000 youth in 2012 to 6,600. We are the only course in the state that provides unrestricted access to children and families seven days a week, and our primary focus is to work with children who are low-income, at-risk, or who have special needs. However, the five older synthetic greens and tees that make up our 5-hole teaching and learning facility have exceeded their useful life and attempting to play on them is not a rewarding experience. This has a negative impact on our programming, hinders practice and limits the number of youth that we can serve when those parts of our facility are not in use.
What winning this prize means for our organization: The synthetic turf installation is needed to provide the highest quality First Tee program to as many local youth as possible, which will impact the health, well-being and academic resilience of the children we serve, and benefit their families and the community as a whole. With new greens and tees, more classes can be held at The Children's Course/The First Tee learning center. Without the use of these greens (as they remain in their current state), we are forced to practice and teach on certain holes on the 9-hole golf course, ultimately closing the course to the general public during certain hours of the day, limiting our availability as a community resource. In the Greater Portland Metro Area, where it can rain for days or weeks at a time, this prize would restore all elements of our course to their best and highest use, and maximize our ability to provide a safe and rewarding golf experience to children, their families and friends.