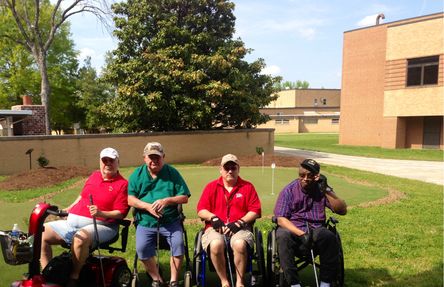 Please click the thumbnail image to the left to view more and vote for your favorite finalist.
Golf Supports Our Troops (www.golfsupportsourtroops.org) aims to improve the lives of wounded and disabled veterans and active duty troops through the game of golf. As a 501(c)3 public charity, we provide golf training and exercise equipment to recreational and physical therapy programs at Veterans Administration (VA) hospitals nationwide; to date equipment has been donated to 203 facilities. Our organization also sends recreational golf equipment to military units serving overseas, donating over 23,000 golf clubs, tens of thousands of golf balls, golf driving nets, putting mats and more to active duty troops. In addition, we host disabled veterans at PGA Tour events and have provided financial support to other veterans' charities. Our latest initiative, which we call Heroes Greens, is to provide wheelchair accessible, synthetic putting greens to VA hospitals with spinal cord injury units. We want to provide these special needs patients with access to recreational golf. Four VA facilities with spinal cord injury units in Missouri, Tennessee, Wisconsin and Virginia have been identified for the putting greens, serving as "beta" sites where the benefits of wheelchair golf can be evaluated by the VA staff.
What winning this prize means for our organization:
Golf Supports Our Troops has to raise funds for all of our golf equipment donation programs, which is especially challenging in today's economy. This effort is a labor of love, as no one in our organization receives any form of compensation for their efforts on behalf of veterans. We are proud to have the opportunity to provide a useful service to our wounded and disabled veterans. Winning this prize would allow us to fund impactful projects, including another green donation to the VA.