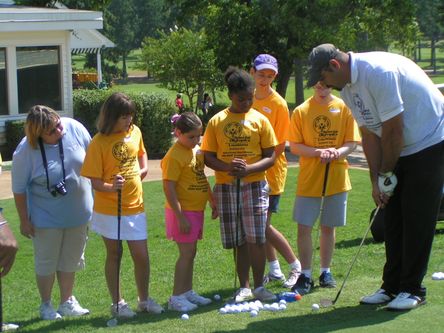 Please click the thumbnail image to the left to view more and vote for your favorite finalist.
For the past decade, the First Tee of Northwest Louisiana (www.thefirstteenwlouisiana.org) has worked hard to positively impact the lives of thousands of young people by providing learning facilities and educational programs that promote character development, healthy choices and life enhancing values through the game of golf. Our organization serves youths in an inner-city community who would otherwise not have the opportunity to experience the game of golf and its core values. With childhood obesity levels on the rise in our community and nationwide, creating more opportunities for kids to be active is also one of our top priorities. However our current practice facility needs to be renovated, we lack a place for youth to play when the weather is inclement, and our organization dreams of having an accessible surface that can more readily accommodate kids with disabilities.
What winning this prize means for our organization:
This summer, we plan to start a renovation project that includes completing our driving range and putting surface. Synthetic turf could play a big part in the renovation of our practice facility and the beautification of the community we serve. Part of the turf prize could be used to cover our current swing set and play area, creating an accessible space that will encourage kids of all ability levels to exercise and interact more with others. Winning this installation would transform how we can shape young lives, encourage greater levels of activity and further their self-confidence and esteem.