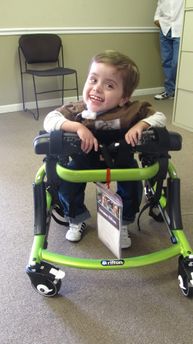 Please click the thumbnail image to the left to view more and vote for your favorite finalist.
Formed in 1947, the Society for Handicapped Children & Adults; Modesto, CA (www.societyforhandicapped.org) enhances the quality of life and self-sufficiency of those with disabilities in the California Central Valley area. We achieve this mission through our various programs and services, including our medical equipment Loan Closet, adaptive recreation programs (winter ski, water ski, bike camp, day on the farm, horseback riding, annual special needs Prom), educational programs (such as sign language), resource and referral services, advocacy assistance and workforce development (job training in our thrift store). Over 87,000 people in Stanislaus County have a disability according to the 2010 US Census, so the organization's impact is tremendous. We operate without government funding, relying on community business partnerships, donations, grants and generosity from our community as a whole.
What winning this prize means for our organization:
It is our dream to build an accessible playground so children with diverse abilities can play side by side. Receiving this turf would help us get on our way to making this dream a reality. Inclusion is of the utmost importance to us; having a playground where children can play side by side with their peers, regardless of their disability, is desperately needed. Often children with disabilities, and adults, feel isolated, sit on the sidelines and are left unable to participate in activities that average children enjoy. Our dream playground would break down these limitations and barriers. There is no accessible park like the one we are planning for in Stanislaus County or in neighboring counties, and it would be greatly utilized. Creating an accessible synthetic turf playground is the next step for us and our experience in advocating and working with those with disabilities enhances our opportunity for success.
Video submitted: http://youtu.be/9Pf0YXidNhA